1) EKS pull image from ECR.
Chúng ta đã có 1 post hướng dẫn cài EKS thông qua terraform.
Sau khi đã cài xong EKS thì bạn kiểm tra 1 con Worker (EC2)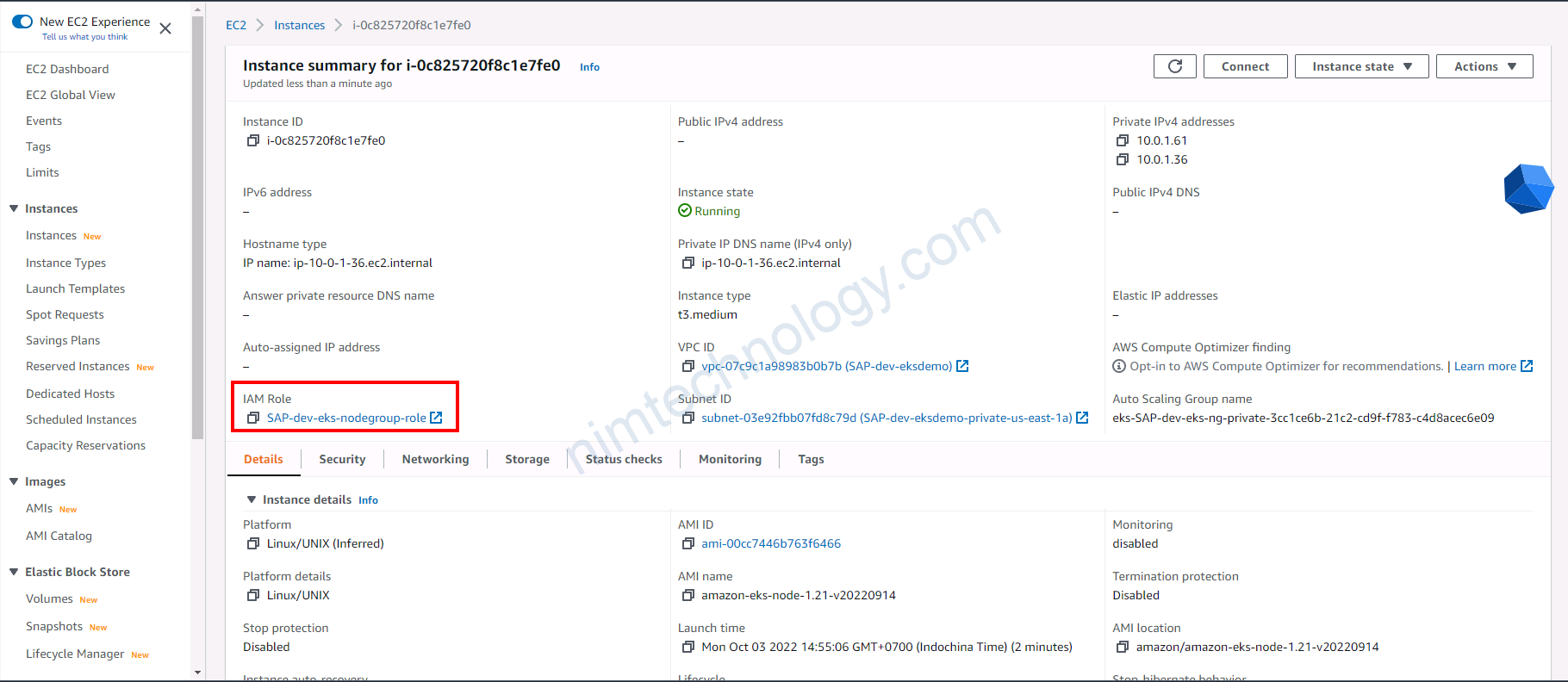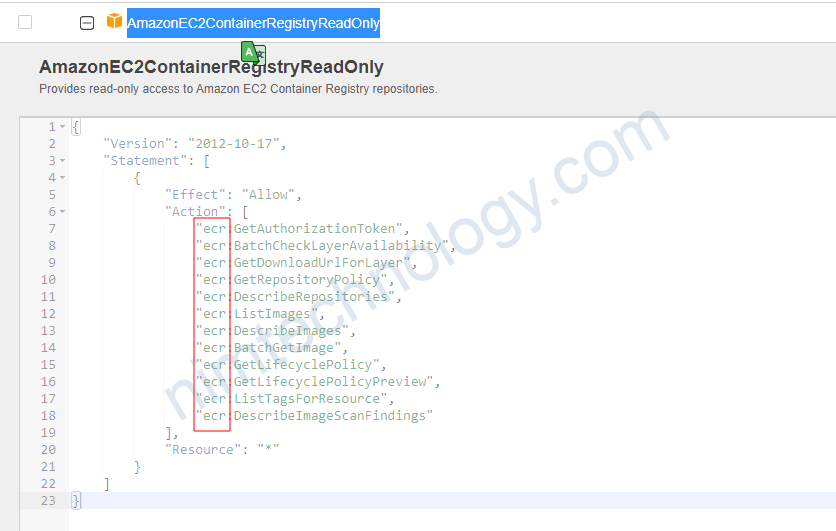 Bạn có thể tham khảo thêm link này;
https://devopstales.github.io/home/aws-eks-ecr/
Verify ECR Access to EKS Worker Nodes
Go to Services -> EC2 -> Running Instances > Select a Worker Node -> Description Tab
Click on value in IAM Role field Role name
In IAM on that specific role, verify permissions tab
Policy with name AmazonEC2ContainerRegistryReadOnly, AmazonEC2ContainerRegistryPowerUser should be associated
2) Using imagePullSecrets to pull images from ECR.
https://skryvets.com/blog/2021/03/15/kubernetes-pull-image-from-private-ecr-registry/
Bạn có thẻ gen thử secret "docker-registry" để test thử imagePullSecrets
kubectl create secret docker-registry regcred \
  --docker-server=250887682577.dkr.ecr.us-east-1.amazonaws.com \
  --docker-username=AWS \
  --docker-password=$(aws ecr get-login-password) \
  --namespace=default

kubectl create secret docker-registry regcred \
  --docker-server=250887682577.dkr.ecr.us-east-1.amazonaws.com \
  --docker-username=AWS \
  --docker-password=$(cat token-ecr) \
  --namespace=default

Giờ cần tạo ra crontab trên k8s để auto renew token

root@k8s-master:~/ecr# cat rotate-token-ecr.yaml
apiVersion: v1
kind: Secret
metadata:
  name: ecr-registry-helper-secrets
  namespace: production ## <<<< Change it
stringData:
  AWS_SECRET_ACCESS_KEY: "ctR4JSP1rQR7JuTYDd9zLTqlMWSAEBPxQANiL+5s" ## <<<< Change it
  AWS_ACCESS_KEY_ID: "AKIATU2QSHIIZQC525JS" ## <<<< Change it
  AWS_ACCOUNT: "250887682577" ## <<<< Change it
---
apiVersion: v1
kind: ConfigMap
metadata:
  name: ecr-registry-helper-cm
  namespace: production ## <<<< Change it
data:
  AWS_REGION: "us-east-1" ## <<<< Change it
  DOCKER_SECRET_NAME: regcred
---
apiVersion: batch/v1beta1
kind: CronJob
metadata:
  name: ecr-registry-helper
  namespace: production ## <<<< Change it
spec:
  schedule: "0 */10 * * *"
  successfulJobsHistoryLimit: 3
  suspend: false
  jobTemplate:
    spec:
      template:
        spec:
          serviceAccountName: sa-production ## <<<< Change it
          containers:
          - name: ecr-registry-helper
            image: odaniait/aws-kubectl:latest
            imagePullPolicy: IfNotPresent
            envFrom:
              - secretRef:
                  name: ecr-registry-helper-secrets
              - configMapRef:
                  name: ecr-registry-helper-cm
            command:
              - /bin/sh
              - -c
              - |-
                ECR_TOKEN=`aws ecr get-login-password --region ${AWS_REGION}`
                NAMESPACE_NAME=production ## <<<< Change it
                kubectl delete secret --ignore-not-found $DOCKER_SECRET_NAME -n $NAMESPACE_NAME
                kubectl create secret docker-registry $DOCKER_SECRET_NAME \
                --docker-server=https://${AWS_ACCOUNT}.dkr.ecr.${AWS_REGION}.amazonaws.com \
                --docker-username=AWS \
                --docker-password="${ECR_TOKEN}" \
                --namespace=$NAMESPACE_NAME
                echo "Secret was successfully updated at $(date)"
          restartPolicy: Never
---
apiVersion: v1
kind: ServiceAccount
metadata:
  name: sa-production ## <<<< Change it
  namespace: production ## <<<< Change it
---
apiVersion: rbac.authorization.k8s.io/v1
kind: Role
metadata:
  namespace: production ## <<<< Change it
  name: role-full-access-to-secrets
rules:
- apiGroups: [""]
  resources: ["secrets"]
  resourceNames: ["regcred"]
  verbs: ["delete"]
- apiGroups: [""]
  resources: ["secrets"]
  verbs: ["create"]
---
kind: RoleBinding
apiVersion: rbac.authorization.k8s.io/v1
metadata:
  name: production-role-binding ## <<<< Change it
  namespace: production ## <<<< Change it
subjects:
- kind: ServiceAccount
  name: sa-production ## <<<< Change it
  namespace: production ## <<<< Change it
  apiGroup: ""
roleRef:
  kind: Role
  name: role-full-access-to-secrets
  apiGroup: ""
---